What is Abereshe?
Abereshe is a unique blending of the Alabanian and Italian cultures. In the 1400's King Ferdinand I of The Kingdom Of Naples needed help to fight off the Ottoman Empire which was invading the kingdom's borders. He made an alliance with George Skanderbeg of Albania to protect the Kingdom with his warriors and in payment the King offered Skanderbeg and his warriors land in his Kingdom as payment. Land given to these Albanian warriors was located in the regions of Apulia, Basilicata, Molise, Calabria and Sicily. Many settled in Calabria on the land awarded to them by the king and communities known as Abereshe communities were created. They are unique and are a combination of Albanian and Italian Culture. Though hundreds of years has passed, these communities have maintained their unique culture and customs.
Family of George Skanderbeg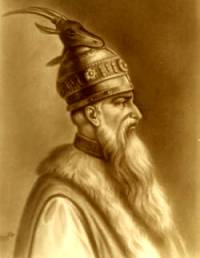 George (Gjergj) Kastrioti Skanderbeg was born on 6 May 1405 to the noble family Kastrioti in Sine, Dibra, Albania. His father was Gjon Kastrioti, Lord of Middle Albania and his mother was Princess Vojsava Tripalda. George was one of 9 children born to his parents. George's father Gjon was the son of Pal Kastrioti, a knight who died in the battle of Kosovo in 1389 fighting the Ottoman Empire. George married Maria Donika Arianiti Muzaka, Princess of the League of Lezhe. They had several children including Gjon (1454-1514).
George was one of 9 children born to his parents. The brothers and sisters of George are listed below.
Stanisha
Reposh
Konstandin
Maria (called Mamica)
Angelina
Jelena
Vlaika
Mara
---
Family