Cosenza Province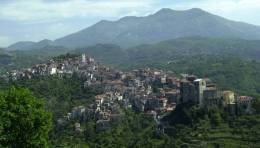 Cosenza Province is the northern border of Calabria. It is bordered on the east by the Ionican Sea and the west by the Tyrrhenian sea, Catanzaro to the south and Basilicatta to the north. There are 155 comuni in Cosenza Province. In the north the Pollino mountain range separates Cosenza (and all of Calabria) from Basilicata and serves as a natural border. In the south of the province another major mountain range is the Sila Mountains which extends into Catanzaro.
Cosenza's roots go back to early man. The province has been conquered by the Normans, Saracens, Byzantines and the Spainish. This rich history is reflected in their buildings and their cultures. Roman ruins, ancient castles, Norman towers, and festivals like Montalto Uffugo's Saracen Festival mesh the past with the present. There are a number of Abereshe communities throughout the province. You can find the names of these towns and read about the Abereshe here. You can access the official website of the province here.
Legends
An ancient legend exists in the province dating back to 410 AD about King Alaric, King of the conquering Visgoths. The legend states that once the King conquered Rome, he headed south, conquering and collecting wonderful treasures and he progressed into the south. Once he reached where the Crati river and the Bucenta river met, he died suddenly. These rivers meet in the heart of Cosenza. It is said that his soldiers, along with the help of slaves, buried the King under the river, along with his horse and all the treasure, by redirecting the river long enough to build the tomb. His troops then killed all the slaves so no one would know where the treasure was.
---
Family


2007-2012 © Calabrian Genealogy.com
C. Napolitano, Webmaster
Design by raykdesign | Valid CSS and XHTML Valid