Montalto Uffugo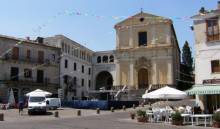 Montalto Uffugo is located in Cosenza Province in the northern portion of Calabria. Surrounded by mountains, Montalto Uffugo is fairly large by village standards. This is the villiage of my Grandfather, Giuseppe Napolitano.
The community seems very proud of it's long history and heritage. It is an old city and the oldest Church in Montalto Uffugo is the "mother church", Madonna Della Serra which was built in 1227. It's baroque architecture and beauty are the pride of the comune. It was reconstructed in the 1500's. Montalto Uffugo enjoyed a comfortable life with lush farmlands, steady trades, nobility, castles, many churches and San Rocco a monestary and growth ensuring jobs. Over the last century they have enjoyed a steadily rising population rather than a declining population. In 2001 the population boasted 17,382 residents. In 1901 the population was 6,991. Still, much of the younger generations have moved north seeking education and work.
A Brief History
Montalto Uffugo has a long history dating back Milena. Documents regarding Montalto Uffugo date back as far as 166 BC. In antiquity, this comune was called "Aufugum". Aufugum in latin means hidden or escape. They had reason to escape when 86 Valdesi were slaughtered and the rest of the town had to submit to new rule. There have been many notable archeological finds here with obvious ancient Greek and Roman influences. It was upgraded to a municipality by the powerful Roman Empire during the invasion of the Visgoths. The name of the town was simply Montalto until after the unification in 1870 when "Uffugo" was added to Montalto in memory of it's history and previous name. Montalto Uffugo was a religious center for the many orders of the Catholic faith. Several convents and monasteries were built there. A Norman tower is a reminder of Montalto Uffugo's long history and is evidence of the Norman occupation here. At one time there was a Jewish presence there too and the remains of a Jewish shop from the 1500's still exists today. Some of the people from Montalto can trace their lineage back to France, Spain and Albania.
Frazioni
In the United States we have neighborhoods. Names for different areas of a city within the city. In Italy the term frazioni is used. Montalto Uffugo has many frazioni. My grandfather was born in the frazioni of Parantoro. For a list of the frazioni in Montalto Uffugo, click here




Next: Frazioni Of Montalto »
---
Family


2007-2015 © Calabrian Genealogy.com
C. Napolitano, Webmaster
Design by raykdesign | Valid CSS and XHTML Valid