Family Pages
Antonio Frontera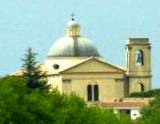 Antonio Frontera was born about 1792 in Cortale. Antonio was the son of Giovanni Frontera and Ippolita Pulli. In August of 1811, at the age of 22 Antonio married Domenica Schinnea in Cortale. Antonio and Domenica lived on Strada Cannaletto where their children were born. Antonio worked as a miller in Cortale. Both Antonio and his wife were still living in 1846 when their daughter Maria married and his date of death is currently unknown.
Children Of Antonio and Domenica
I am still researching this family, therefore I am missing most of their children. However, a list of the children I have found can be seen below.
Maria Born about 1815
Ippolita Born 3 Nov. 1825
Ippolita Born 4 Nov. 1826
Domenico Born 7 May 1828
Domenica Schinnea
Domenica Schinnea was born about 1795 in Cortale to Domenico Schinnea and Vittoria Cefali. She was only 16 years old in August of 1811 when she married Antonio Frontera. Her father Domenico Schinnea died on 30 March 1811 in Cortale just a few months before her marriage. Since Domenica and her siblings bere born before the civil records existed, the only way to find her siblings is through their marriage or death records. I am still researching these records, however, I was able to find a son born to Domenico Schinnea and Vittoria Cefali about 1790 named Giovanni who married Maria Pellegrino on 14 October 1813. This marriage document contained the date of his father's death.
Vittoria Cefali
Vittoria Cefali was born about 1754 in Cortale. Vittoria was the daughter of Giuseppe Cefali and Giulia Pellegrino. Giuseppe Cefali died in Cortale on 7 October 1773. Giulia Pellegrino died in Cortale on 8 September 1766. It is unknown when she married Domenico and since she would have married him sometime prior to 1790 the only possible proof of a marriage record may be found in the church records if they still exist. On February 11, 1816, the widowed Vittoria Cefali married Giuseppe Cefali in Cortale. Vittoria was 61 years old at the time of her second marriage. A copy of their marriage document can be viewed here. This marriage document provided the dates of death for her parents.
NEXT: Natalina Scrugli »
---
Family