Natalina Scrugli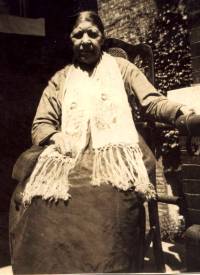 Natalina Scrugli was born in Italy sometime in the 1850's to Antonino Scrugli and Caterina Cipollina. Her father was a politician who was transferred from Tropea to a political position in Cortale at some point between 1860-1867. Natalina was very close to her brother Gaetano, and her sisters Carmela and Maria. She married Giuseppe Maiuolo in Cortale. He held a political post in Cortale while married to Natalina and they owned their home in Upper Cortale (Donnafiori). Giuseppe and Natalina had at least 4 children together. They had 2 daughters named Caterina. The first born Caterina died after eating poisoned berries around the age of 4. Their other children were Maria born in 1887, Domenico Francesco born in 1894 and Caterina born in 1896(?). Giuseppe Maiuolo died in Cortale. Since I am not sure when he died, (records are unavailable) my best guess would be between 1895 (after his youngest child was conceived) and 1905, the year his wife and children left Cortale. This left Natalina a widow with 3 children to care for.
Immigration
Gaetano, Natalina's brother, was the first to leave Cortale. I never found his ship manifest, however, I believe he left around 1895, the year his daughter Maria was born. After Gaetano left, his sisters Carmela and Maria became widows. Gaetano negociated the marriage of his friend in Chicago, Teodoro Bertuca (also from Cortale) and his sister Maria. In April, 1904 Maria and Carmela boarded thee ship "Columbia" in Napoli and came to Chicago. During this time, many friends and family were leaving Cortale for America. When Natalina's husband died, she was all alone with her children. Natalina missed her sisters so in November, 1905, Natalina packed what possessions she could fit in a steamer trunk and left Cortale forever. I presume she sold the house in Cortale first. It is interesting to note that a few months prior to her departure, a huge earthquake struck the area and caused much devastation. Natalina and her children arrived at Ellis Island on Thanksgiving Day, 1905. Because it was a holiday, they had to stay on the ship in port until the next day. The ship manifest for Natalina and her children are on lines 4-7 here.
Upon their arrival in Chicago, Natalina and her children stayed with Gaetano until Natalina could purchase a home. It was not long before Natalina purchased a 3 flat on Loomis Street and moved her small family there. In the basement apartment Natalina opened a butcher shop. She lived with her family on the main floor and rented out apartments to other Italians who recently immigrated until they could find jobs and housing. Natalina died in 1936 from complications caused by a broken arm and cervical cancer.
NEXT: Antonino Scrugli »
---
Family