Family Pages
Giuseppe Maiuolo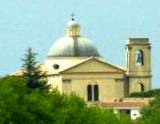 My great grandfather, Giuseppe Maiuolo, was born on 7 December, 1854 in Cortale to Maria Frontera and Domenico Maiuolo. He was born in the Donnafiori "rione" or section of Cortale. This is located in "Upper Cortale" the town center high on top of the hill. He would also raise his own family in Donnafiori. Not much information about Giuseppe has survived. According to family stories, he held a political office (most stories state he was a tax collector) in the town and died fairly young. It is assumed he died sometime before 1904, when his wife and children immigrated to America. Until I can get access to his death record, this is all that can be known for now. Giuseppe's 2 page birth act can be viewed on the right side of this page.
Domenico Maiuolo
The father of Giuseppe, Domenico Maiuolo was born about 1810 in Cortale to Pietro Maiuolo and Rosaria Parisi. According to family documents of marriage and birth, his profession was "Proprietario" which translated means property owner. Domenico married Maria Frontera in May of 1846. He was 36 years old when he married. By the time he married, his father Pietro was deceased.
Domenico had two other children named Rosaria who was born on 18 August 1849 and another son named Antonio who was born on 8 January 1852. I am still researching these records and may find more children soon.
Maria Frontera
Maria Frontera was born about 1815 in Cortale to Antonio Frontera (son of Giovanni) and Domenica Schinnea. Her father was a laborer in Cortale. She had a sister named Ippolita who was born on 3 November 1825.

NEXT: The Family Of Maria Frontera »
---
Family