Family Pages
Family From Cortale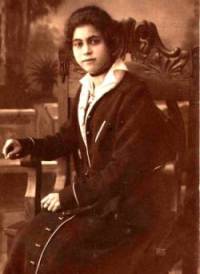 My grandmother, Caterina Maiuolo was born in Cortale, Catanzaro. Her father was Giuseppe Maiuolo, a native of Cortale. Her mother, Natalina Scrugli came to Cortale from Tropea. As a child, I grew up hearing so many stories of life in Cortale. Every Sunday my parents would take me to house of my father's aunt who was the sister of my father's mother. Everyone called her "Zitzy". Her house was always full of so many people. I often would ask if they were related to us and my father would answer they are paisans. Often it was clear he did not know himself. Many people he called cousins, but he was unsure how they were related. It did not seem to matter, family ties or not, they were all treated as close family. The largest of family gatherings could only be held in the summer because no one's house was large enough to hold everyone - well over 100 people. People with surnames of Maiola (The Americanized version of Maiuolo), Bertuca, Mungo and Savino. All names from Cortale. Memories of those parties haunt everyone in my family as we remember such wonderful times. The smells of great food and cigars, the sounds of music and thick Italian accents, the warm loving hugs penetrated our memories forever. Although memories of our ancestors left in Italy so long ago, they helped shape our memories and the people we are today.
My grandmother left Cortale as a child with her mother, Natalina Scrugli, her brother Domenico Francesco and her sister Maria. The ship manifest can be viewed on the right side of this page. You can read more about Caterina's journey to America and life here on the page about her mother, Natalina Scrugli here.
This page will serve as an index to all pages we have here that relate to my family from Cortale. Use the links on the right side of this page to view related pages.
NEXT: Giuseppe Maiuolo »
---
Family