Antonio Scrugli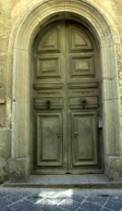 Antonio Scrugli was born in Briatico to Antonio Scrugli and Natalina Merotta about 1798. Antonio's grandparents were Girolamo Scrugli and Maria Carmela LaTorre. Antonio married Caterina Morano on 8 January 1824 in Briatico. Sometime after the birth of his first child Carmela in October 1824 and before the birth of his son Antonino in January 1827 Antonio left Briatico and moved to Tropea. Antonio's profession was Chancellor (cancelliere in Italian). According to his death record, Antonio died at the age of 44 in Tropea on 28 March 1845.
The Family of Antonio
Antonio Scrugli and Caterina Morano had at least 6 children together. Their first child, born 10 months after their marriage, they named Carmela who was born in Briatico. She was their only child born in Briatico. Their son Antonino was born on 8 January 1827 in Tropea. They had a set of twin sons in 1831. I am still actively researching this family.
Caterina Morano
Caterina Morano was born in March 1805 to Pasquale Morano and Antonia Corigliano. Her father was a surgeon. According to her baptism document baptised on 27 March 1805 with the name Maria Caterina Giuseppina Francesca Antonia Morano and the baptism took place in Filadefia. Caterina was still living when her son married in 1850, but her date of death is currently unknown.
Children of Antonio and Caterina
Listed below are the children of Antonio and Caterina. There are 2 links for each person that will show you page 1 and page 2 of their birth acts.
You can read more about the family in Tropea here.
---